12 Tips for Choosing the Best Rotary Tool for DIY Beginners
DIY projects are becoming increasingly popular, and for a good reason. Not only do they allow you to save money by doing the work yourself, but they also give you a great sense of accomplishment when completed successfully. One tool that can help make your DIY projects easier is the best rotary tool. These tools come in a variety of shapes and sizes, making them ideal for different types of jobs. But with so many options available, how do you choose the best one? In this article, we'll provide some tips on choosing the best rotary tool for DIY beginners. We'll discuss things like power source, speed settings, attachments, ergonomics, and more so that you can find the perfect tool for your next project!
Why DIY Beginners Need a Rotary Tool?
DIY beginners need a mini rotary tool in their lives if they want to tackle any repair or craft project with ease. A cordless rotary tool, such as the Dremel, can cut, engrave, and sand various materials, including plastic, wood, and even some metals. Its small size and light weight make it a great choice for tackling detailed jobs in tight spots like corners or edges. Furthermore, these tools come with multiple accessories, so users can easily switch out bits for different tasks without needing to buy other tools. Finally, its variable speed settings give you the flexibility to determine the right speed for your project that is going to produce the highest quality outcome while also remaining safe while using them.
What Are The Different Brands Of Rotary Tools?
When it comes to selecting the right tool for your needs, a brand can be a very important factor - not all brands are created equal! Common brands that people use are Dremel, Wen, and Hardell.
Dremel is arguably one of the best cordless rotary tool companies; its products offer variable speeds and interchangeable accessories for many different types of projects. Wen is best known for producing high-quality rotary tools with extended warranties and affordable pricing; they often come with a broad range of attachments to fit any application. If you're looking for something higher grade than Wen but not as expensive as Dremel, then Hardell offers an excellent solution. Also, it provides some great cordless option models with several different styles and price points.
Ultimately the type of brand you decide on should be tailored specifically to your project needs and preference - so shop around and make sure you pick the right fit for your next task at hand!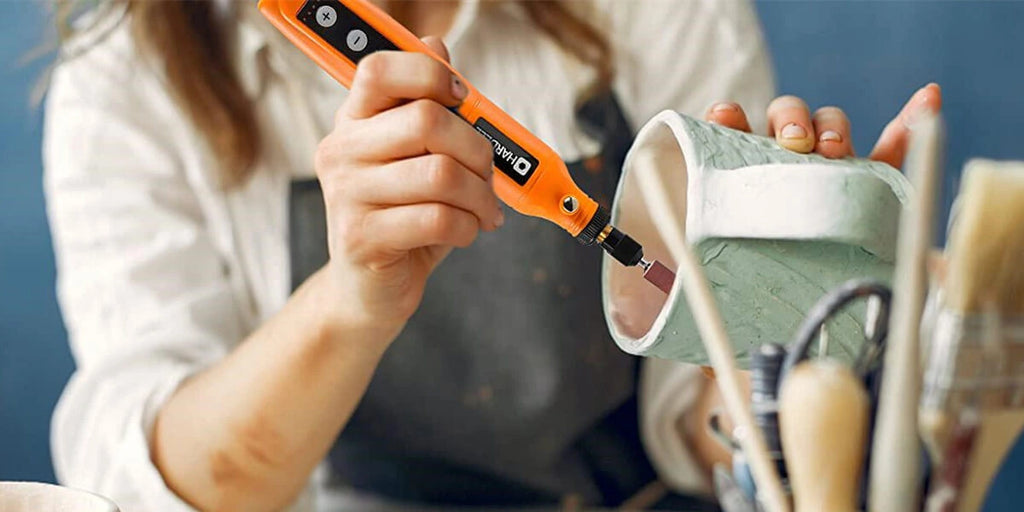 Tips for Buying Rotary Tools
Now that you have a general understanding of the different types of cordless rotary tools and brands available let's move on to some important tips for making sure you get the right tool for your DIY project.
1. Consider The Type of Project You Are Working On
When considering the type of project you are working on, it's important to recognize how much effort and time each type of project requires. Projects can range from small and straightforward tasks to large and complex projects requiring considerable planning and dedication.
Depending on the scope of the project, it's important to evaluate your schedule, resources, budget, and other considerations that may impact the feasibility of completing it successfully. It's often helpful to check in with an expert or mentor who has experience with similar projects, as they may be able to provide valuable guidance when getting started on a new endeavor.
2. Consider The Power Source
It's important to think carefully about the kind of power you need and the amount of energy that you will be using. For instance, if your home or business is using a lot of electricity, then investing in a larger system such as solar may make sense.
On the other hand, if your energy needs are smaller, consider a portable generator or wind turbine as your main source. And don't forget about alternative sources such as hydrogen fuel cells or biodiesel generators - these can provide clean, renewable energy for your site and offer an affordable alternative to traditional energy sources.
3. Consider The Speed Settings
Cordless rotary tools come with different speed settings and attachment options, so it's important to consider the type of projects that you plan on doing as well as the speed that is needed to complete them safely. For example, some tasks may require a faster speed setting while others might be better suited to a slower setting.
4. Select a Tool That's Easy to Use and Handle
When selecting the best cordless rotary tool, make sure to consider the type of handle and body that is most comfortable for you. The size, weight, and shape of your tool should also be taken into consideration, as these can greatly impact your ability to work productively with it. In addition, you should also think about features such as adjustable grips and ergonomic handles, which can make the tool easier to manage.
5. Make Sure You Get The Necessary Attachments
Best rotary tools come with different types of attachments, and it's important to make sure that you get the right ones for your project. The type of attachment will depend on the kind of work you will be doing, so take the time to research and compare different options before making a final decision.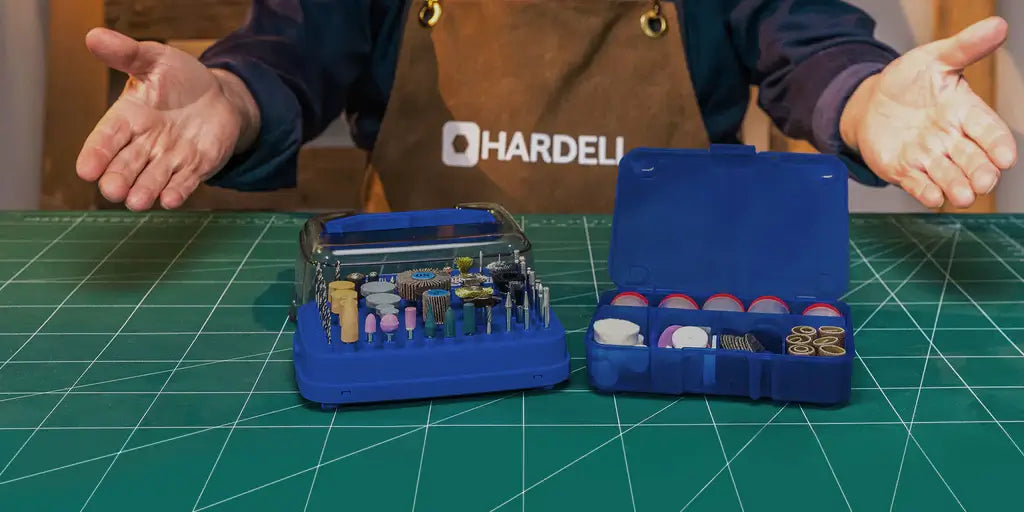 6. Budget Accordingly and Look for a Quality Warranty
It's important to consider the cost of the tool, as well as any additional accessories or features that may be useful for your project. Additionally, you should also look for a quality warranty for peace of mind in case something goes wrong with the tool. This can help protect your investment and give you some reassurance that your purchase is backed by a reputable company.
7. Read a Variety of Reviews and Recommendations
Before making a purchase, do some research and read up on reviews and recommendations from other users. This can give you an insight into how well the product works in practice as well as any potential issues to be aware of.
8. Don't Just Focus on the Price
Important to remember that cheap doesn't always mean good. While it may be tempting to go for the cheapest option, this might not be the best decision in the long run. Investing in a quality cordless rotary tool can save you time, money, and frustration in the future.
9. Don't Overlook Safety Features
When working on DIY projects, safety is essential. Therefore, make sure to look for tools that have safety features, such as spark guards and insulated handles, to protect you from potential risks caused by the tool. Moreover, always wear appropriate safety gear when operating the tool and follow any instructions carefully to ensure your own safety and that of those around you.
10. Don't Buy a Tool That's too Powerful for the Job
Select the best cordless rotary tool that is powerful enough for the job you are doing but not too powerful. This will help you get the best performance out of your tool without risking damage to the project or yourself. It can also help you save money in the long run as you won't have to buy more powerful tools for small jobs.
11. Don't Forget to check for Accessories and Attachments
Make sure to check for any additional accessories or attachments that come with it. This can include bits, hoses, and other components that might be necessary for specific projects. Additionally, some companies offer special deals on certain packages, which may work out more cost-effective in the long run.
12. Don't Buy Without Considering Your Needs
When it comes to selecting the best rotary tool for DIY beginners, it's important to consider your needs and the types of projects you plan on doing. This will help you narrow down the available options and make sure that you get a tool that is well-suited to your particular task.
Best Rotary Tools for Beginners
Rotary tools offer an incredible range of uses and make light work of small tasks such as sanding, drilling, polishing, and cutting. It's important to find a mini rotary tool that suits your needs and budget, so start by researching the different types available.
Generally speaking, you can find corded or cordless models which will both get the job done, but each has its own pros and cons. If price is an important factor, then look for a more entry-level best rotary tool with fewer features; this will be ideal for smaller jobs around the house. However, if you plan on completing intricate tasks or larger projects then opt for a more robust model without compromising on quality.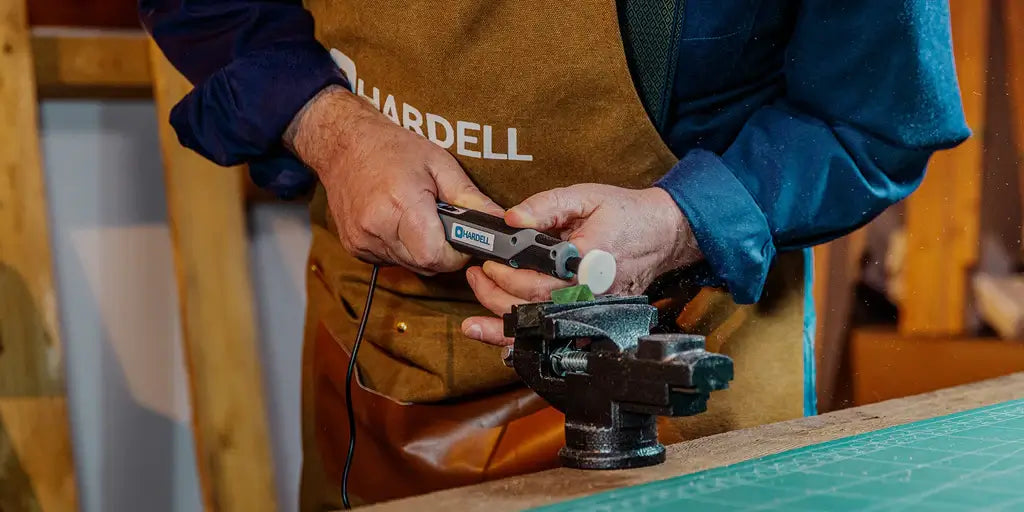 Conclusion
Choosing the best cordless rotary tool for beginner DIYers can be a tricky task. To make sure you get the right model, consider your needs, budget, and research reviews so that you can find one that is suited to your particular project. Remember to factor in safety features and
rotary tool accessories
, as well as look for a quality warranty before making a purchase.
---